New Minor Figures Oat M*lk! (2018)
New Minor Figures Oat M*lk! (2018)
Here at Tchibo we like to keep adding products to our range to move with trends and keep things exciting. Therefore, we wanted you to be the first to know that we've added a brand new product that we really think is going to change the coffee game!
We would like to introduce:
The Minor Figures brand focuses on retail and convenience and have produced a food product that is barista focused and of the highest quality. 
Oat M*lk is a complete dairy free alternative to use in your coffee! (So if you're vegan then this really is the product for you). It's got no added sugar, preservatives or stabilisers and is a much better product for the environment, producing 80% less greenhouse gases than normal cow's milk.
Not only this, but oat m*lk production typically uses 85-90% less water than the amount used to peel almonds and produces 35% less greenhouse gas than other dairy alternative. It really is simple, with only few ingredients: Water, Oats (10%), Rapeseed oil, Tricalcium phosphate, Calcium carbonate and salt. What's not to like?
Here are some of our top tips for foaming Oat M*lk:
Ensure your Oat M*lk is chilled and ready for use.
Make sure your dedicated milk foaming jug is clean and cold.
Whilst foaming your milk, keep the steam wand in the centre of the jug, rather than tilting it at an angle to make sure you're left with a frothy, smooth and silky texture.
Moving the jug down slowly as steaming begins to create the foam and micro bubbles. Patience and a steady pace is key.
Measure the correct amount for each use, according to the cup size being made. This makes for an easier steaming process.
Heat milk to 140F or 60C
Made especially for baristas, this delicious and natural oat m*lk foams to a silky smooth texture, making it ideal for latte art. So, we thought we would put it the test with our top barista's going head to head here at Tchibo HQ with an Oat M*lk latte art competition!
First up, was Will Hall (Graphic Designer)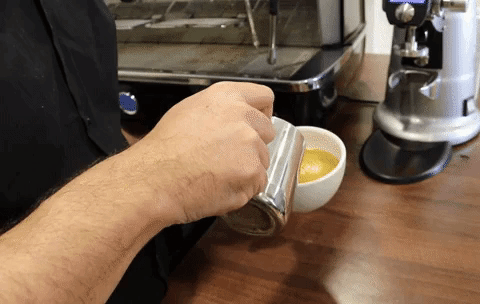 Francesco Marchetti (Coffee to go director) 
We think they both did great! Let us know who you think won over on our Instagram page!